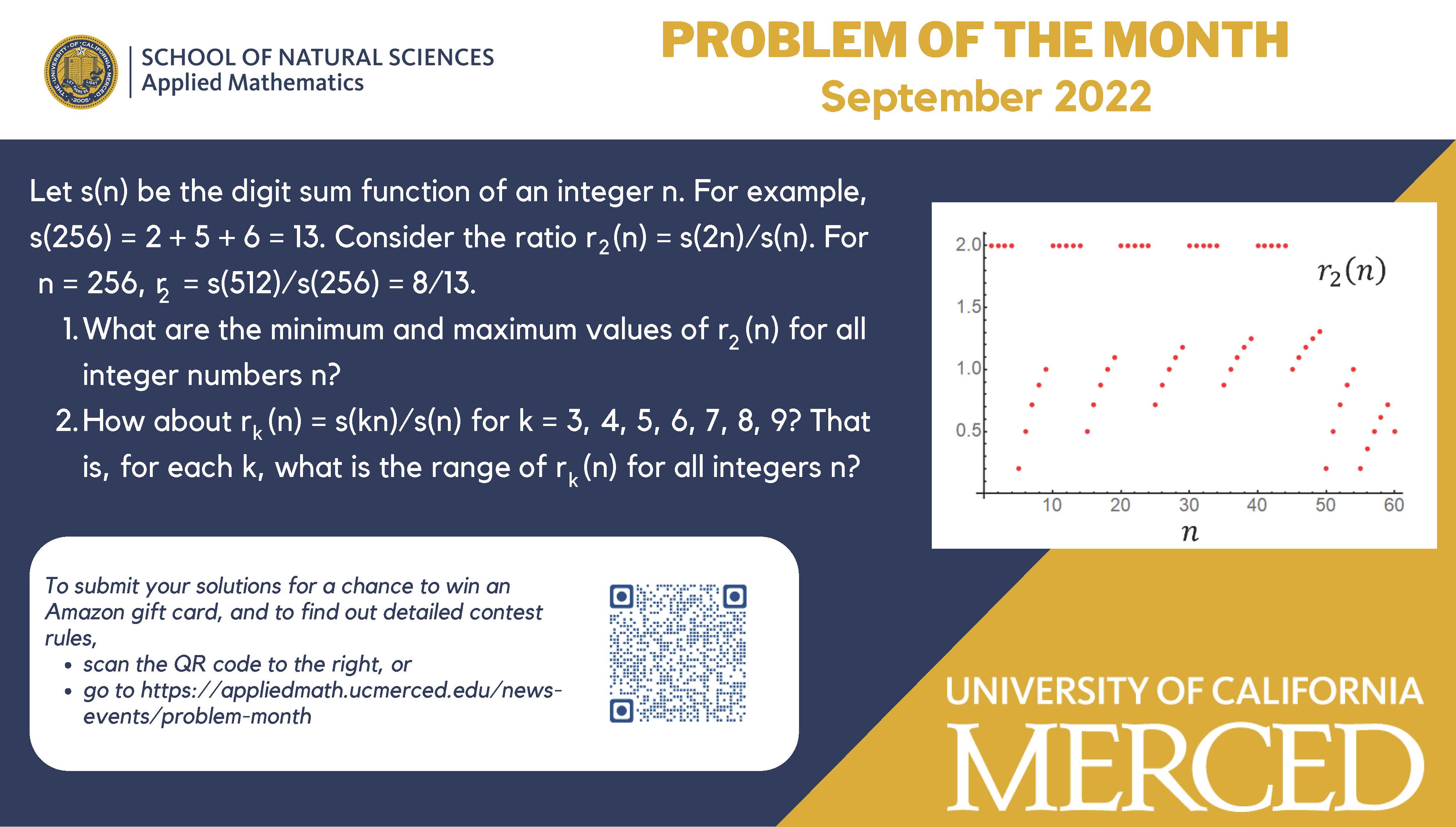 Any method, analytical or numerical, can be used, including but not limited to algebra, geometry, calculus, differential equations, linear algebra, probability, statistics, computer simulations, experiment, etc.

All solutions need to include detailed reasoning and explanations.

Partial solutions are welcome!

A well-documented failed approach

with a clear

explanation of why the method does not work will be valued as much as a complete solution!
Any undergraduate s

tudents who submitted top and/or creative solutions will be recognized on the Applied Mathematics Department website. They will be entered into a drawing for an Amazon gift card of $50. 

All undergraduate students who have submitted solutions will be entered into a second drawing for another Amazon gift card of $25.

On

Wednesday, October 12 (Granite Pass 103, 4-5pm)

, noteworthy solutions will be presented and the lucky winners will be decided.

Please contact

Prof. Lei,

Yue (

ylei2@ucmerced.edu) and/or Prof. Changho Kim (ckim103@ucmerced.edu) i

f you have questions.
problem_of_the_month_flyer_sep_2022.pdf
Previous problems
Month
Winner of
$50 Amazon Gift Card
Submitters of Noteworthy Solutions
Apr 2022
Nathan Simons
Sydney Cripe, Salaheldin Hegab, Ryan Milstrey, Daniel Perez-Zoghbi, Nathan Simons, Tianfei Zhang (undergraduate)
Mar 2022
Salaheldin Hegab
Salaheldin Hegab, David Hernandez, Arnold Khampaseut, Andrew Lin, Ryan Milstrey, Daniel Perez-Zoghbi, Kaixuan Zhang (undergraduate)
Valentin Dallent (graduate student)
Feb 2022
Andrew Lin
Fernando Espinoza-Ortiz, Salaheldin Hegab, Andrew Lin, Ryan Milstrey, Kaixuan Zhang (undergraduate) photo of the winners of Applied Math department mugs
Nov/Dec 2021
Salaheldin Hegab
Salaheldin Hegab (undergraduate)
Oct/Nov 2021
Sabrina Ponce
Sabrina Ponce (undergraduate)
Valentin Dallerit (graduate students)
Sep/Oct 2021
Edward Lu
Salaheldin Hegab, Edward Lu, Ryan Milstrey (undergraduate)
Valentin Dallerit, Tucker Hartland (graduate students)