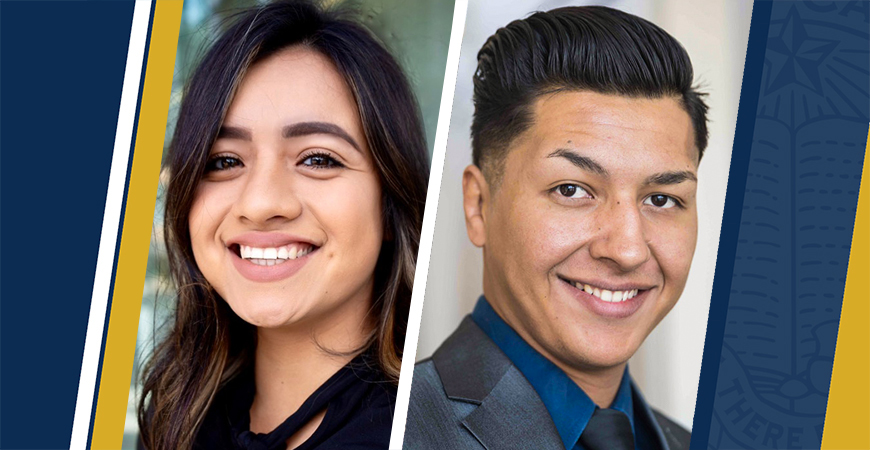 Ruben Lemus was celebrating his graduation from UC Merced's Gallo Management Program with a family dinner at nearby Yosemite Lake when his father reminded Ruben of a visit to the lake years earlier.
"My dad said at the time, 'If you want to do something with your life, get an education. They are building a new school right over there. Maybe one day you could even go there,'" Lemus recalled. "I thought it was just a throwaway line."
It turned out to be far more than that. The East Bakersfield High graduate completed a bachelor's degree in business economics in 2018 and earned his Master of Management degree in 2019. He now works in Sacramento as a coordinator for Keurig Dr Pepper, a major producer and distributor of hot and cold beverages.
Lemus is one of many who has begun promising careers after completing the one-year Gallo Management Program, which offers practical, project-based management skills to address the cross-functional challenges business professionals frequently face. The program is accepting applicants through Feb. 15 for its Fall 2021 cohort.
Lemus' Master of Management degree paid off immediately as he landed a job at Scientific Drilling in Shafter, where he had performed his summer capstone internship. Not only did he have a job right out of college, but it was in Kern County, where he was born and raised.
Then the coronavirus pandemic struck. The worldwide price of oil plummeted. Lemus was caught in the company's second wave of layoffs in April.
"I was just getting started and it felt like I had lost everything I had worked for," he said.
The professors and the faculty aren't just there to teach. They're there to build relationships.
Lemus dove into the search for his next job, getting up every day to send out applications and check his inbox. He endured months of rejections and no callbacks. He sought advice from UC Merced's Career Services staff, who urged him to expand his search and to contact job recruiters directly.
His search ended last October when the Keurig Dr Pepper executive who is now his manager decided to take a calculated risk on him.
"They chose me over someone who was a manager for four years," Lemus said.
The job checked all the boxes on his personal career requirements.
"It was a huge relief, and I had hope again," he said.
Another graduate of the Gallo Management Program, Bianca Garibay, was a math whiz going back to her days at Buhach Colony High School. Most people figured the Merced native would become a math teacher. Garibay had other ideas; bio-engineering was enticing, and there was a university in her hometown that could deliver the academic goods.
Garibay liked staying close to family while getting the advantages of a UC education. She appreciated UC Merced's fresh, new look and its small enrollment. What she realized she didn't like, after some time at the university, was bio-engineering.
"Designing circuits was not for me," she said.
It was one year of school, but it was a game-changer for my career.