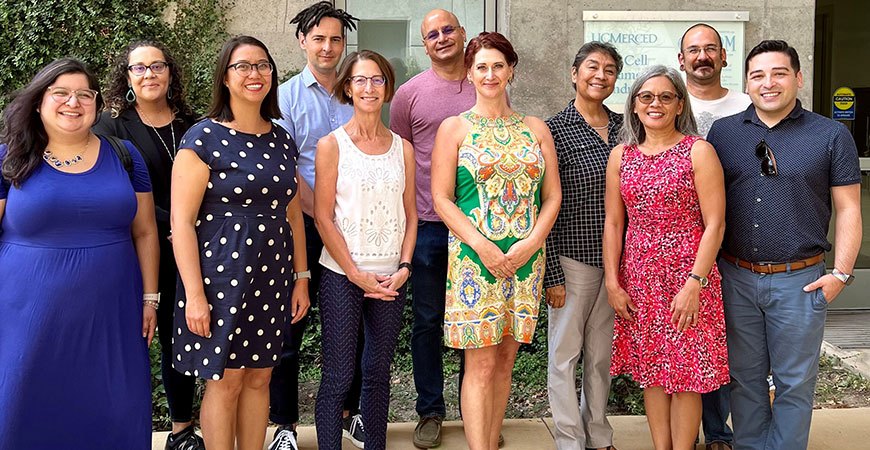 Rising juniors this fall will have an unprecedented opportunity for stem cell research training that could lead directly to careers in stem cell science after graduation.
School of Engineering Professor Kara McCloskey and School of Natural Sciences Professor Jennifer Manilay are leading a team of faculty who will mentor 10 undergraduates per cohort. Thanks to a nearly $3 million grant from the California Institute for Regenerative Medicine (CIRM), students accepted into the Creating Opportunities through Mentorship and Partnership Across Stem Cell Science (COMPASS) program will also have their tuition and basic fees partially paid, and each will receive an annual stipend at $18,000 per year prorated over the training period.
In addition to direct mentorship with faculty and hands-on training in such areas as culturing and characterizing human embryonic stem cells during a three-week summer module, differentiating between vascular and cardiac stem cells, and immunology, students who complete the nearly two-year program will take specific classes that align with their majors, work on research with faculty and get clinical experiences focused on stem cell therapies and regenerative medicine organized by UC Merced's Office of Medical Education.
COMPASS scholars will finish their programs with industry internships that could become careers. The program's goal is to train the next generation of the stem cell science workforce.
"It's an excellent opportunity for the students," McCloskey said. "We expect a lot of interest."
The program is open to students who are majoring in biology and bioengineering, applied math, chemistry, materials science and mechanical engineering, as long as they meet the biology prerequisites that have prepared them to take Developmental Biology. For most applicants that means BIO 110. Other majors, such as engineering, can become eligible after taking BIOE 106.
"We want to get the word out to freshman and sophomore students, so they will have time to plan. If they're not eligible this year, they can take the biology courses and apply when they are eligible. We will be running this for five years, accepting four overlapping cohorts," McCloskey said.
Applications will be accepted online Oct. 1 through 20, and students who are admitted into the program start classes in the spring. The program's website goes live Oct. 1. There will also be an informational event held on Stem Cell Awareness Day, Oct. 11.
In addition to McCloskey and Manilay, the faculty involved include professors Joel Spencer, Nestor Oviedo, Emily Jane McTavish, Suzanne Sindi, Stefan Materna, Stephanie Woo and Roberto Andresen Eguiluz, most of whom are members of the Health Sciences Research Institute, which manages the grant. The plan is that each professor will take a student to mentor, but McCloskey said they want students to be well matched with their mentors and have a say in that partnership, so it's possible in a given year, some professors might take two students, and some might take none.
Although all undergraduates at UC Merced have the opportunity to do research, it's rare that there is an intense focus on research and rigorous training in a very specific area, McCloskey said.
Internships will be offered at companies including Applied Cells in Santa Clara; Cellpoint in Poway; Deciduous Therapeutics, Inc. and Nkarta in San Francisco; Direct Biologics, LLC in San Diego; Fate Therapeutics in La Jolla; Lineage Cell Therapeutics in Carlsbad; or Tenaya Therapeutics in South San Francisco, and discussions with other companies are in progress. Students will have direct experience that will position them for jobs immediately after graduation. At some of those companies, students will work with UC Merced alumni who are happy to give back to their school and their fellow Bobcats.
Careers related to this program include regenerative medicine, biotech, clinical trials, gene therapy, biomedical research, tissue engineering, nanotechnology, bioethics, cancer research and more.
"A lot of students might not have even thought of careers like these yet," Manilay said. "When I started school, I thought pre-med was the only thing I could do with my biology major. One of my professors advised me that there were a lot of other options. But there wasn't any program telling me to explore those."
Another unique aspect of the program is that CIRM is the patient engagement component.
"They want to make sure the students in our program understand who the people are who will be directly affected by their work," Manilay said. "CIRM is expecting a lot out of this program. But we will be working with the students to make sure they can balance their time."